To be perfectly blunt, Hewlett-Packard Co. (HPQ) posted a solid first quarter 2011 (see conference call transcript here).
However, it's amazing how the media can spin a tale of negativity out of excellent operating results, and how the market could take this already inexpensive technology stalwart down at a double-digit percentage rate as a result. In short, we feel the reaction to Hewlett-Packard's earnings announcement is not only ludicrous but bizarre.
To illustrate our point, we'll first look at the headlines from Hewlett-Packard's press release directly off their website (click to enlarge images):

Now, let's look at how the press treated Hewlett-Packard's announcement. This is the headline and a few excerpts from the Wall Street Journal on February 23, 2001 (see article here):
H-P Trips on Weak PC Sales, Services by Ben Worthen

Hewlett-Packard Co. posted a 16% quarterly profit increase, but its revenue growth was hurt by lower personal computer sales to consumers, a surprise that sent its shares plunging after hours.

The world's largest technology company by revenue posted sales declines in two of its biggest businesses: personal computers and technology services. It also lowered revenue forecast for the rest of its fiscal year, even as the company raised profit targets.
Now let's drill a little deeper into Hewlett-Packard Co.'s press release. Here we learn that GAAP net earnings were up 16%, as the Wall Street Journal focused on, primarily related to amortization and restructuring charges.
But on a cash basis, excluding certain accounting conventions, the company put together a pretty strong quarter. Frankly, it's hard for us to understand how the following announcement would cause the stock to drop at double-digit rates.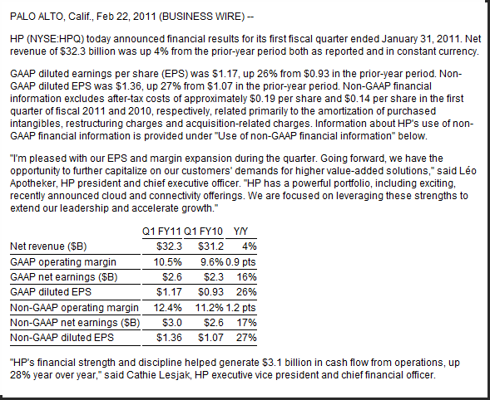 The Wall Street Journal, and other assorted media, focused on two points from which to spin their negative viewpoint. One, they pointed out that Hewlett-Packard Co.'s (HPQ) personal systems group posted a 1% drop in revenues to $10.4 billion.
To be fair, the Wall Street Journal followed this statement by pointing out that the unit's operating income jumped 27% to $672 million, its highest ever. Two, they focused on technology services revenue which declined 2%.
But on the other hand, Hewlett-Packard's very important imaging and printing group's revenues rose 7% with 17% operating margin, with share gains across all printing categories which led to 33% year-over-year growth in commercial printer hardware units. Again, hardly evidence of an awful quarter.
Hewlett-Packard Co. (HPQ) also reported strong growth in all their other business groups; Enterprise Servers, Storage and Networking (ESSN) reported 22% revenue growth and 14.7% operating margin, HP Software reported revenue growth of 5% with a 17.6% operating margin, and Financial Services posted revenue growth of 15% with a 9.6% operating margin. Finally, HP generated $3.1 billion in cash flow from operations in the first quarter, and exited the quarter with over $10 billion in gross cash. These hardly seem like valid reasons for killing the stock.
Hewlett-Packard: Price and Earnings Correlated F.A.S.T. Graphs™ Since 1997
(Note that all graphs in this article are through the closing price on 2/22/2011 – yesterday's drop is not yet reflected.)
As you can see from the graph below, HP's stock price was extremely overvalued during the irrational exuberant period which ended in the spring of calendar year 2000. Then with two years of earnings drops in 2001 and 2002, HP's stock price fell close to its earnings justified valuation (the orange line) by 2003. From 2003 to 2007, HP's earnings growth was exceptionally strong and stock price followed. A flattening in earnings growth during the great recession of 2008 created an excellent buying opportunity as the stock became very undervalued based on earnings justified valuation. However, the stock price quickly recovered back to its earnings justified valuation as investors' fears subsided.
Although the earnings recovery for fiscal year 2010 has been very strong, the controversial leaving of CEO Mark Hurd, once again threw their stock into a tailspin, which created a low valuation by historical standards. However, based on a continued strong earnings outlook, HP's share price was once again recovering, until yesterday.
Prior to yesterday's double-digit fall, HP was trading at a PE ratio of only 10.7, a level that we feel undervalues the stock by at least a third. In other words, we see no rational justification for this quality technology company to be trading at a PE ratio less than 15, at a minimum.
More importantly, we see no reason for yesterday's earnings announcement to have caused such a negative reaction, as we've already expressed.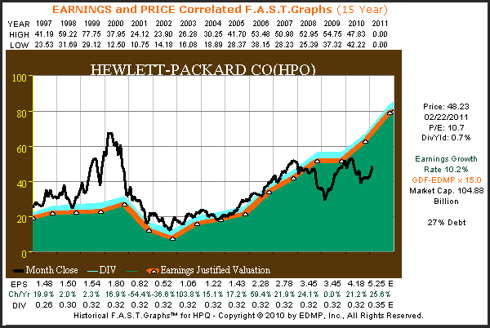 The associated performance results with the above F.A.S.T. Graphs™ illustrate that Hewlett-Packard Co. has rewarded shareholders in line with S&P 500, even considering its low valuation. Although the company does pay a dividend, its yield is modest and its dividend has not increased since 1998.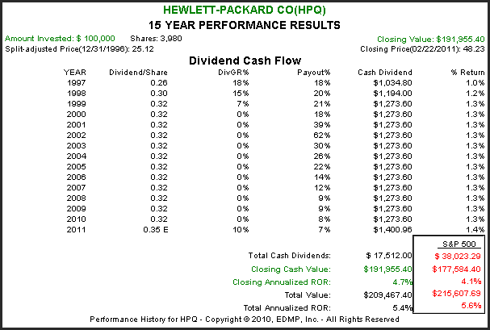 Hewlett-Packard: Price and Earnings Correlated F.A.S.T. Graphs™ Since 2004
The more recent F.A.S.T. Graphs™ and the accompanying performance results on Hewlett-Packard Co. tell a very different story indeed. During this time frame, HP generated exceptional earnings growth in excess of 20% a year, and the stock price was tracking that growth until the recession of 2008. However, since that time the stock has been historically undervalued, in our opinion, on an earnings justified basis.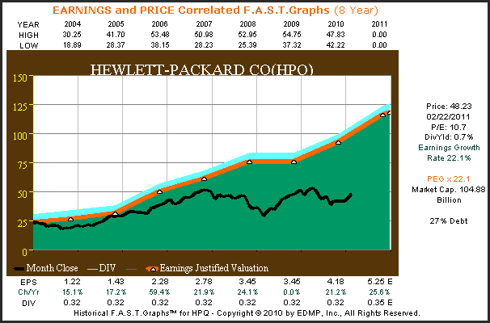 Nevertheless, even though the valuation has been low since calendar year 2004, HP's long-term shareholders have been very well rewarded, far in excess of the average company, as measured by the S&P 500. It is amazing the difference that reasonable valuations, coupled with strong earnings growth can make.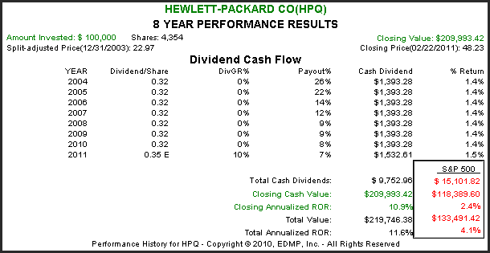 Hewlett-Packard: Estimated Earnings and Return Calculator
The following estimated earnings and return calculator show that 30 analysts reporting to FirstCall expect Hewlett-Packard Co. (HPQ) to grow earnings at 10% per annum over the next five years. Based on those estimates, if HP were to trade at a more normal PE ratio of 15, the upside opportunity from owning this quality tech titan would be exceptional.
Moreover, we saw nothing in the current earnings report that suggests that these milestones could not be achieved.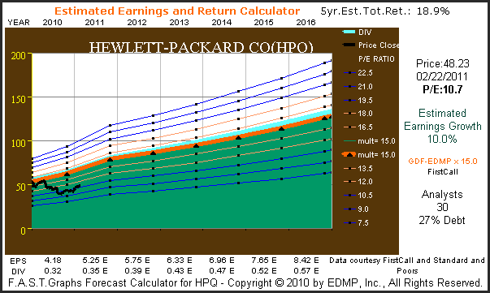 Summary and Conclusions
We believe that the current market reaction to Hewlett-Packard's earnings announcement is, as we have already stated, both ludicrous and bizarre. As Warren Buffett has so eloquently put it; "be fearful when others are greedy, and greedy when others are fearful." Consequently we believe that Hewlett-Packard represents a high-quality blue-chip technology holding that is currently on sale. Of course, as always, the prospective investor is encouraged to do their own due diligence.

Disclosure: I am long HPQ.
The opinions in this document are for informational and educational purposes only and should not be construed as a recommendation to buy or sell the stocks mentioned or to solicit transactions or clients. Past performance of the companies discussed may not continue and the companies may not achieve the earnings growth as predicted. The information in this document is believed to be accurate, but under no circumstances should a person act upon the information contained within. We do not recommend that anyone act upon any investment information without first consulting an investment advisor as to the suitability of such investments for his specific situation.
Please follow and like us: