Pitney Bowes (
PBI
), headquartered in Stamford, Connecticut, and founded 1920 is the world's largest manufacturer of postage meters and mailing equipment. The company operates in more than 100 countries throughout the world and employs some 35,000 people. There was a time, in the not-too-distant past, when Pitney Bowes was an above-average growth story, with a modest but above-average growing dividend yield. However, along came the Internet with its e-mail, fax machines, electronic billing, etc., and the growth dynamic of postage meters was forever changed.
Even though the Internet changed the business dynamics of this blue-chip, Pitney Bowes today maintains the coveted status of a Dividend Aristocrat by logging 29 consecutive years of dividend increases through calendar year 2010. Although the following dividend graph from Pitney Bowes' website validates this exceptional record of dividend growth, it also illustrates a major change since calendar year 2000.
The statement of a 10% compound annual growth rate is true, but like a lot of statistical references, it does not tell the whole story. Clearly, the 10% compound annual growth rate is an average of faster growth over the first 18 years, blended with lower growth over the last 11. The statistics don't lie, but they can be misleading if they are all you had to go on. This illustrates why we have always felt that a picture is not only worth 1000 words, but worth more than thousands of statistics as well.
Pitney Bowes' 29 Year Dividend Record
(Click charts to expand)
Is Pitney Bowes' legacy of growth ending?
A quick look at Pitney Bowes' operating record from 1990 to 1999, shows that it consistently grew earnings at just less than 13% per annum. Calendar year 1994 was a modest down year, but otherwise Pitney Bowes' earnings growth record was consistently strong. In unison with their strong earnings growth, Pitney Bowes was also able to raise the dividend every year during this timeframe by double-digit rates (light blue shaded area).
Pitney Bowes: Earnings and Price Correlated 1992 to 1999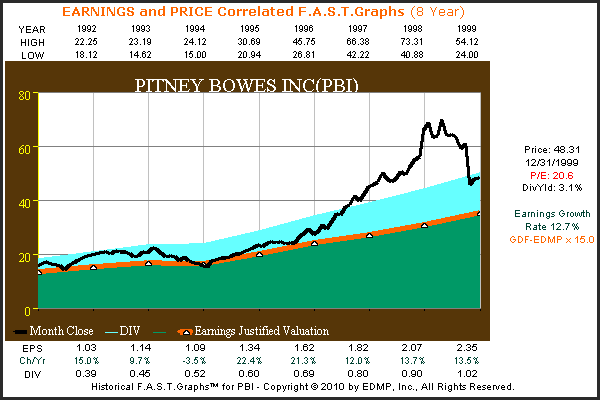 When you examine the track record that Pitney Bowes generated over this eight year period of time, the consistent record of growth correlates to shareholder returns. Capital appreciation of 15% per annum is clearly attributed to their 13% earnings growth coupled with a little overvaluation. From the dividend cash flow table, we also see that the dividend growth rate approximated earnings growth, and the payout ratio was consistently centered at approximately 40% per annum.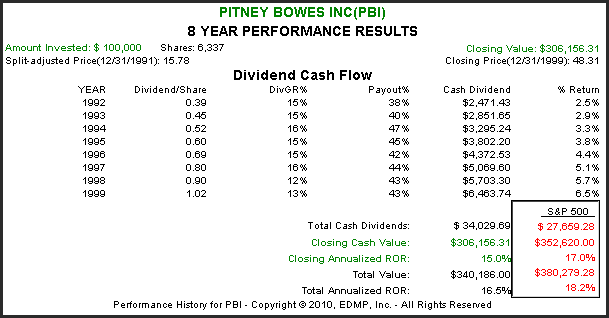 Pitney Bowes' operating record since calendar year 1999 illustrates that this once fast grower, has evolved into a very low growth enterprise. Most importantly, as Pitney Bowes' ability to grow dramatically changed, so did the way the market has capitalized its earnings. With earnings growth averaging less than 1% a year since 1999, the average price earnings ratio on this quality company has contracted with earnings growth.
Pitney Bowes: Earnings and Price Correlated 1999 to Present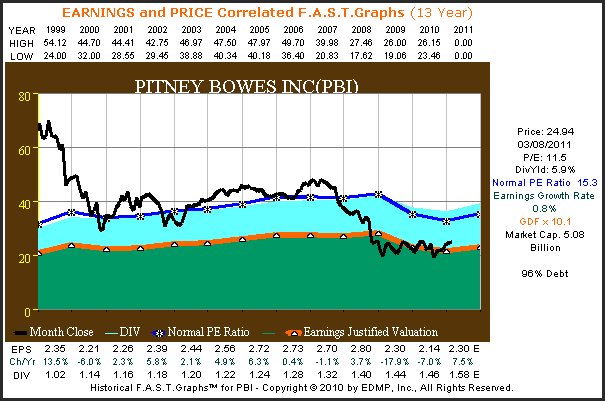 The performance results that Pitney Bowes generated for shareholders since calendar year 1999, is an entirely different record than it generated during the growth years 1991 to 1999. Although capital appreciation (depreciation) averaged an abysmal -7.7% per annum, much of the loss can be attributed to excessive overvaluation that the market applied during the heyday of its growth phase. This is an important factor that needs to be considered, and another example of how mere statistics can be misleading.
However, excluding considerations of valuation issues, the more important story regarding Pitney Bowes' performance relates to the dividend record. From the dividend cash flow table, the effects of a slowing of earnings growth manifested in several ways. First, the rate of dividend increases was far less than the 10% average boasted about earlier. It's true that the company has maintained its Dividend Aristocrat status (25 or more consecutive years of dividend increases) however, it's also true that it is becoming increasingly more difficult as earnings growth has waned. Slowing growth has forced the company to increase the payout ratio above 60% levels in order to keep the record intact.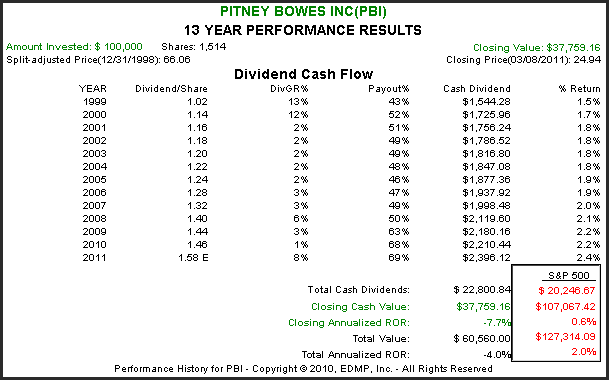 Pitney Bowes: Earnings and Price Correlated 1992 to Present
When you combine Pitney Bowes' legacy high growth earnings era, with today's more modest growth, a clear picture of the company's operating record is exposed. Furthermore, when you review the company's performance results associated with ther operating record since 1992, the reality of this Dividend Aristocrat's dividend policy also becomes readily apparent.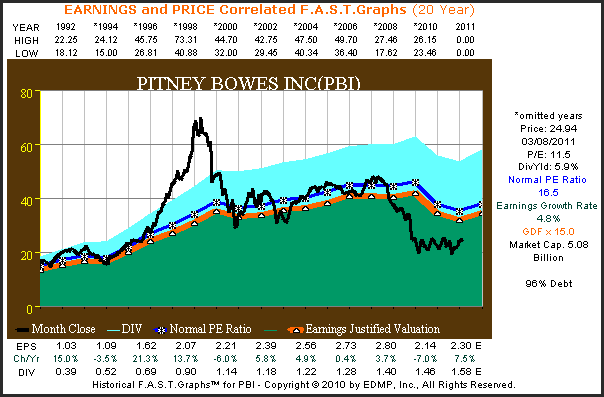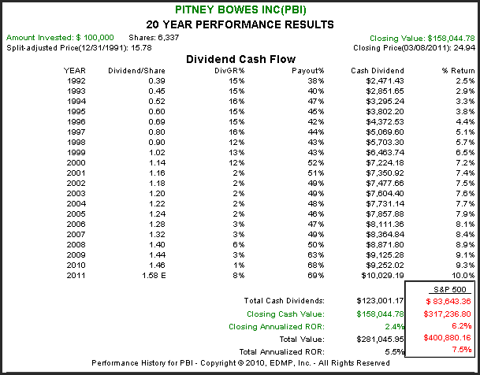 The above graphic presentation offers a telling story regarding Pitney Bowes' operating results past and present. However, the graphs are mere pictures, and as such are what we call dead images. For more of a dynamic review of Pitney Bowes' operating results past, present and future, we suggest you review a short video that dynamically looks at Pitney Bowes with our technology alive.
Summary
From the information provided above, it is obvious that Pitney Bowes represents a company operating in an industry segment experiencing significant transformations. Although this has historically been an extremely well-managed enterprise, the challenges facing management today are enormous. As a result, Pitney Bowes' management is attempting several strategies in order to reestablish profitable growth.
Pitney Bowes engaged in a major restructuring in 2007 through 2009 that eliminated about 3000 jobs. Currently it has initiated another restructuring, which it refers to as a Strategic Transformation. Management estimates a $100 million in total projected net benefits from this initiative in 2011. The current restructuring is estimated to result in reducing company headcount approximately 10% at a pre-tax cost of $250-$350 million.
Finally, in recent years Pitney Bowes has made numerous acquisitions into new business lines in order to diversify. Some analysts feel that this is a potentially dangerous move that could dilute management's focus away from the core business models. On a more positive note, in addition to acquisitions the company is also attempting to develop new products and services that can reinvent the company and reestablish growth. A prime example is their new offering, Volly a secure cloud-based digital mail delivery system. Pitney Bowes views this as the evolution of mail, which combines physical and digital mail into one seamless integrated offering.
From a financial perspective, Pitney Bowes is using strong cash flow generation by resuming its stock repurchase program, and on February 11, 2011, Pitney Bowes announced its board had increased its quarterly dividend to $.37 per share. Although this is good news, it is indicative of the much slower rate of growth of the dividend in recent years. Since Pitney Bowes carries a very high debt load of approximately 96% of capital, needed to fund their various equipment leasing programs, any missteps or economic weakness could seriously impact its financial strength.
Conclusions
Pitney Bowes is a well-known and established company, which offers a significantly above-average dividend yield. Furthermore, statistically speaking this company has raised the dividend every year for 29 straight years. But, as the above graphs so vividly depicted, Pitney Bowes' more recent record of increasing the dividend has been a lot weaker than the historical norm. This is a vital piece of information that prospective investors seeking income need to consider before investing.
Prospective investors should also be aware that there is a lot of uncertainty regarding Pitney Bowes' future growth potential. Although management is taking numerous steps to position the company for future growth, much of what they are initiating is unknown territory for the company. Consequently, there are many analysts forecasting very low or almost nonexistent growth going forward. Even worse, the total number of analysts willing to offer any forecast are few and far between today.
Consequently, investors looking for above-average yield should be cognizant of the risks associated with investing in Pitney Bowes. Even though it is the world's largest manufacturer of postage meters and mailing equipment, there are risks to the future viability of the industry. On the other hand, few companies in the world are capable of competing with Pitney Bowes. The current dividend yield is enticing, and valuation is at a historic low even considering current low growth.

Disclosure: I have no positions in any stocks mentioned, and no plans to initiate any positions within the next 72 hours.
Disclaimer: The opinions in this document are for informational and educational purposes only and should not be construed as a recommendation to buy or sell the stocks mentioned or to solicit transactions or clients. Past performance of the companies discussed may not continue and the companies may not achieve the earnings growth as predicted. The information in this document is believed to be accurate, but under no circumstances should a person act upon the information contained within. We do not recommend that anyone act upon any investment information without first consulting an investment advisor as to the suitability of such investments for his specific situation.
a with our technology alive.