There are many adjectives that can be used to describe Larry Ellison, the charismatic leader and founder of Oracle Corp (ORCL). Detractors could call him brash, arrogant, rude and perhaps flamboyant. Fans would describe him as candid, forthright and straight to the point, brave and not afraid to speak his mind or tell it like it is. All of these adjectives speak to the colorful persona that the press and media relish in provocatively painting his personality with in words.
The media is fond of producing attention getting stories on Larry Ellison that we believe discount his management acumen. The following excerpt from a recent Bloomberg Businessweek article summarizes the public persona of Larry Ellison:
Technology October 6, 2010, 11:00PM EST
Oracle's Larry Ellison Beats Up on His Rivals—Again
The CEO's public attacks on rivals are a sign that competition is heating up in enterprise computing
By Brad Stone and Aaron Ricadela
Thank heavens for Larry Ellison. Without the smack-talking Oracle co-founder and chief executive officer, the $1 trillion-a-year enterprise computing market would merely be huge, crucial—and boring. Oracle and fellow tech titans like IBM (IBM), Hewlett-Packard (HPQ), and Cisco Systems (CSCO) make the technology that runs major corporations around the world. But the intricacies of their products can put regular folks to sleep faster than a Senate hearing on Net neutrality.
After what seemed like an uneventful interregnum in which Ellison kept his swipes largely to himself, the rabble-rouser of Redwood Shores, Calif., is acting out once more. In the past two months alone, Ellison compared the HP board to "idiots" for firing Mark Hurd, hired Hurd, then again ridiculed HP's directors when they brought in a new CEO. In an e-mail to The Wall Street Journal, Ellison called the selection of former SAP (SAP) chief Léo Apotheker "madness" and said HP's whole board should resign. He even made fun of SAP co-founder Hasso Plattner's "wild Einstein hair." (Although, to be fair, Plattner did moon Ellison years ago during a sailboat race.) The Oracle chief "basically says to all players, 'I am your enemy,' " says Marc Benioff, CEO of Salesforce.com (CRM) and a former Oracle executive, who himself has been the target of several Ellisonian barbs over the past few weeks.
The Businessman
Unfortunately, all this attention on Larry Ellison, the public character, masks the incredible skills of Larry Ellison, the incomparable businessman. Running a technology company as sophisticated and complex as Oracle Corp. is a daunting task for even the best of managers. Technology evolves very rapidly where some of your companies' best ideas, products or services can become obsolete in a mere blink of an eye. Larry Ellison has proven time and time again that he is not afraid to reinvent Oracle Corp. in order to keep it current and competitive. As a result, Oracle has flourished and grown faster and more consistently than its chief rivals.
Even more incredibly, Oracle's earnings growth rate has been accelerating in recent times. The CEO of a company can, and arguably should, be held accountable for the operating results that the business he is running accomplishes. The most widely used measurement of a CEO's success is earnings per share generation and growth. However, other important fundamentals are also the responsibility of the CEO such as; cash flows, operating margins, new product launches and developments, etc.
On the other hand, the CEO does not control the stock market, and therefore, is not fully responsible for how the market capitalizes the companies' operating results. However, our research clearly validates that in the long run (at least a business cycle 3 to 5 years) business results accomplished by the CEO will manifest into appropriately correlated shareholder returns.
The following EDMP F.A.S.T. Graphs™ look at Oracle Corporation from the perspective of operating results only. Stock prices are intentionally left off of these graphs in order to highlight and focus on the business results achieved by Oracle Corporation under Larry Ellison's leadership. Of course, Larry Ellison would be the first to add that these results were accomplished through the cooperative effort of Oracle's dedicated team of executives and employees. The first graph below plots Oracle's earnings growth since 1997 and includes estimates for calendar year 2011. To the right of the graph you will see that Oracle's calculated earnings-per-share growth rate is 20.8%.
ORCL 15yr. (1997 – 2011 estimate) Earnings Per Share Growth (click to enlarge)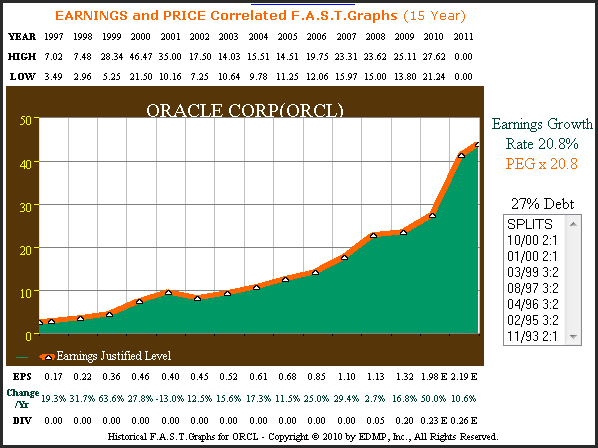 With our second graph we shorten the time frame measured from 2006 to current. Incredibly, here we see that Oracle's calculated earnings growth rate has accelerated to 23.8%. Much of this acceleration can be attributed to the acquisition of Sun Microsystems and the continued incredible success of Exadata, as Oracle morphs into an engineered hardware-software company.
ORCL 6yr. (2006 – 2011 estimate) Earnings Per Share Growth (click to enlarge)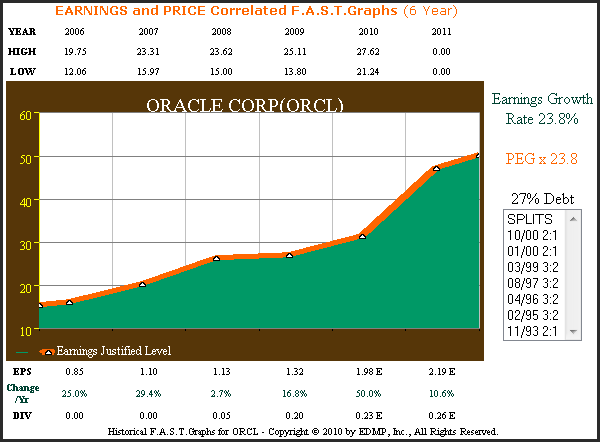 Our next two graphs bring stock prices in the equation illustrating the correlation between operating results, stock prices and ultimately shareholder returns. As you can clearly see, over time, stock price correlated to earnings. In the long run, Oracle shareholders were well rewarded by the operating results the company achieved on their behalf. Of course, there are the occasional bouts of short-term emotionally driven and sometimes irrational stock price volatility.
The orange line with white triangles on the graph represents True Worth™ valuation based on the PEG ratio (price equals growth rate) formula for valuing a stock. The black line represents monthly closing stock prices. Notice how every time the stock price line disconnects itself from the earnings justified valuation line, inevitably it moves back to the True Worth™ valuation line.
ORCL 15yr. (1997 – 2011 estimate) Price Correlated to Earnings Plus Performance
(click to enlarge)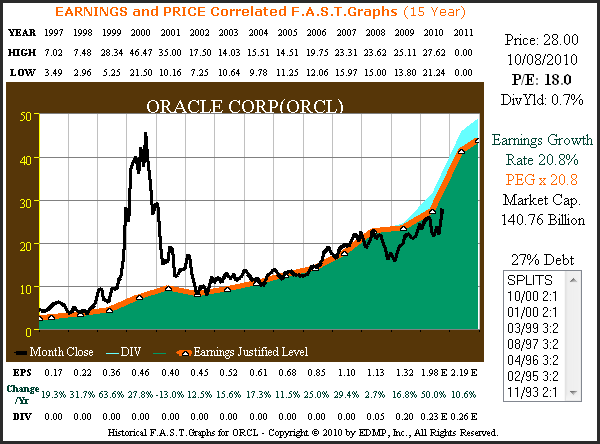 Our F.A.S.T. Graphs™ were designed to illustrate the relationship between operating earnings and stock price over time. We chose operating earnings in order to eliminate nonrecurring accounting events which can skew the price following earnings correlation. However, in Oracle's case, there was a GAAP earnings event in calendar year 2000 that partially explains the huge disconnect between stock price and earnings in that year. Frankly, Oracle's stock price should've never reached the lofty levels it did in calendar year 2000. On the other hand, GAAP earnings do help clarify the market's exuberance. We thought you would find the following chart utilizing GAAP numbers for Oracle enlightening.
Oracle's Price to GAAP Earnings Correlated Chart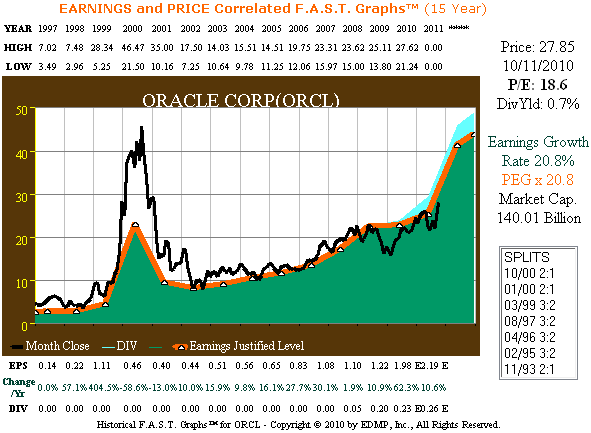 Our next picture looks at IBM, the company Larry Ellison singled out as Oracle's number one competitor in response to a question during their second quarter conference call on September 16, 2010. Larry Ellison spoke of being flattered because he felt IBM is a great company and appreciated what he considered kind words from Sam Palmisano, IBM's CEO who singled out Oracle as IBM's number one competitor.
IBM 15yr. (1997 – 2011 estimate) Price Correlated to Earnings Plus Performance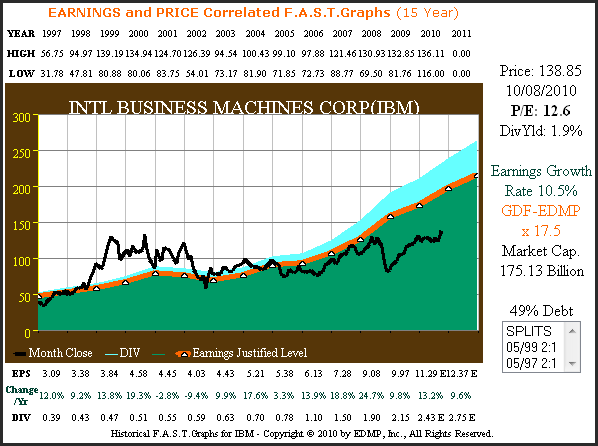 Our final graphs look at Hewlett-Packard (HPQ), another recognized major competitor and, in certain situations, partner of Oracle. As most people know by now, Larry Ellison's good friend Mark Hurd recently stepped down as CEO of Hewlett-Packard after pressure from the board of directors regarding an alleged indiscretion. In an e-mail to the New York Times Larry Ellison had this to say, "the H-P board just made the worst personnel decision since the idiots on the Apple (AAPL) board fired Steve Jobs many years ago." Interestingly, Larry Ellison is close friends with both Steve Jobs and Mark Hurd.
We are long Hewlett-Packard in part based on our respect and admiration for the skills that Mark Hurd demonstrated during his tenure there. We have highlighted the Hewlett-Packard graph in light green depicting Mark Hurd's reign as CEO. As the chart depicts, Mark Hurd did an excellent job at HP. Therefore, it should be no surprise that we were quite disappointed to hear of his resignation on August 6, 2010.
However, it should also be no surprise that we were delighted to hear that he accepted the position of co-president and board member of Oracle Corporation on September 6, 2010. As an aside, we should add that we also have great confidence in Safra Catz, president and now co-president of Oracle with Mark Hurd. But since this article is focused mainly on Larry Ellison, we believe his quick and decisive hiring of Mark Hurd will prove to be an excellent strategic move.
HPQ 15yr. (1997 – 2011 estimate) Price Correlated to Earnings Plus Performance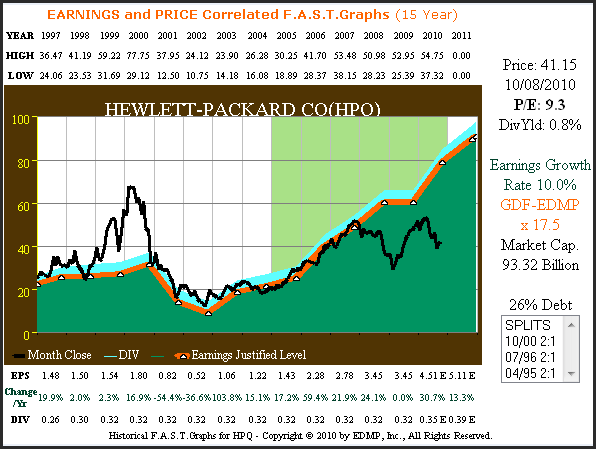 Conclusion
Larry Ellison may be considered flamboyant by many. Many others may even consider him flippant or crude. But Larry Ellison's record as a manager speaks for itself. From very humble beginnings, Larry Ellison has built Oracle Corp. into the $140 billion technology powerhouse that it is today. Moreover, he's never been afraid to reinvent Oracle when necessary in order to stay current and continue to grow. Yes, he may be sharp tongued at times, but you have to respect his honesty. As shareholders, we've always appreciated the fact that we always knew where he stood and never had to guess. This may be irritating to many, but we find his candor refreshing.
Oracle is a growth stock that has achieved an incredible and consistent record of operating excellence, this cannot be denied. Investing in technology stocks can be very treacherous as the industry is continuously changing and reinventing itself. Oracle Corporation has thus far been able to stay ahead of the curve and appears very well positioned for continued growth. They have a strong commitment to R&D, a strong balance sheet and continue to generate strong free cash flow. Therefore, the opportunity to continue to grow through innovation and acquisition is high in our opinion. Most importantly, we believe they possess enlightened leadership and a management bench that was deep and just got deeper.
In closing, Larry Ellison is not the kook many try to make him out to be. He is a terrific CEO, quiet philantrophist and a visionary regarding the future of technology. Although investing in technology can violate Warren Buffett's sage advice of only investing in things you understand, the growth potential can be extraordinary. Therefore, it makes sense to invest with those that do understand the industry. Oracle Corporation, under Larry Ellison's guidance, fits the bill in our opinion. Investors seeking growth of capital might want to consider looking deeper into Oracle.
Disclosure: Long: ORCL, HPQ at the time of writing. The opinions in this document are for informational and educational purposes only and should not be construed as a recommendation to buy or sell the stocks mentioned or to solicit transactions or clients. Past performance of the companies discussed may not continue and the companies may not achieve the earnings growth as predicted. The information in this document is believed to be accurate, but under no circumstances should a person act upon the information contained within. We do not recommend that anyone act upon any investment information without first consulting an investment advisor as to the suitability of such investments for his specific situation.